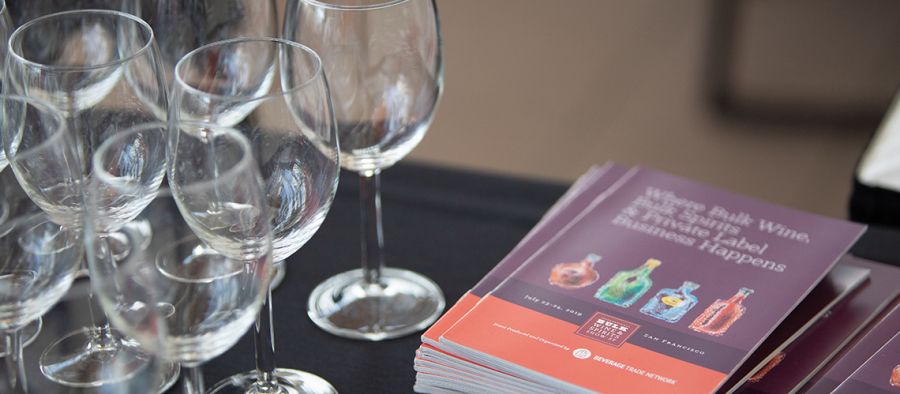 A Rundown on 2019 IBWSS San Francisco
For two days, the IBWSS event in San Francisco was the center of attention for the world of bulk wine, bulk spirits and private label.
27/08/2019
On July 23-24, the International Bulk Wine & Spirits Show (IBWSS) attracted some of the biggest names within the bulk and private label industry to San Francisco for a spectacular two-day business conference and exhibition. Throughout the two days, top executives and influencers from the wine and spirits industry gave presentations to a packed audience, while a very active trade show floor showcased some of the biggest names in the bulk and private label industry.
Panel Discussion Moderated By Bill Abrahamson
One of the highlights of the IBWSS event was the opening keynote speech by Jennifer Leitman, EVP of Marketing at The Family Coppola. As she discussed in her keynote, emotion now plays a very important role in the purchase decision of consumers, so wine brands must find ways to create emotional connections with wine drinkers. In the past, scores, ratings, and reviews might have been enough to convince a wine drinker to sample your wine. Now, however, wine brands must constantly seek out new ways to establish deeper emotional connections with customers.
Throughout the two-day event, IBWSS participants focused on the unique challenges facing private label brands. In the afternoon of Day 2, for example, a group of three different speakers covered different aspects of building a private label brand that will resonate with wine drinkers. Mari Kelly, VP of Private Label Sales and Business Strategy, spoke about the process of creating private label brands for retail customers. She was followed on stage by Jena Domingue, VP of Global Sales at WineDirect, who spoke about the unique opportunities and challenges involved in building a Direct-to-Consumer (DTC) Brand. When wineries and winegrowers avoid the middleman, however, they are also taking on full responsibility for marketing their own brands and attracting wine drinkers to come to their website or winery directly. Finally, Gabe Barkley, CEO of MHW, Ltd., spoke about different case studies of successful wine brands. There are no shortcuts to creating a wine brand that resonates with customers, but it is possible to apply best-in-class practices throughout the process.
Kurt Lorenzi, VP of Global Sourcing at Winery Exchange covering "Do you have what it takes to be a private label supplier?"
On the trade show floor, the hundreds of participants at IBWSS San Francisco could see first-hand how companies around the world have leveraged the bulk wine and spirits markets in order to create world-class private label brands. In addition, the tradeshow floor included a vast array of companies and exhibitors from every aspect of the bulk and private label industry – from logistics to marketing to contract bottling. Over a 48-hour period, it was possible to meet potential partners from around the world, all of them committed to the future of bulk and private label.
A happy exhibitor pitching his buyers
On both Day 1 and Day 2 of the event, IBWSS participants had plenty of hands-on opportunities to learn more about specific challenges and opportunities facing the industry. On Day 2, attorney Donna Hartman talked about the legal issues involved in trademarking intellectual property related to a new wine brand, while Tim Hanni, MW, and Speaker at the Napa Wine Academy, discussed the details of how to profit from sourcing grapes in the bulk wine market. In addition, Evan Stein of The Thornhill Companies in Los Angeles discussed the details of how to create an optimal business model for private label and bulk. In his presentation, he outlined some of the key drivers and metrics that can be used to gauge performance in the marketplace.
Another key theme of IBWSS San Francisco involved the changing perceptions of bulk wine and private label in the broader marketplace. Just a few years ago, it would have been difficult to convince many wine drinkers of the value of drinking "bulk wine." Now, however, some of the most popular wines in the world are actually bulk wines, and consumers have embraced them wholeheartedly.
As Christopher Durham, President of My Favorite Brand and Co-Founder of the Vertex Awards pointed out, there is very much a changing perception around private label brands. In his presentation ("Whisky, Wine and Winning"), he outlined some of the key factors that are responsible for changing consumer perceptions. On that same theme, Dave Carpenter, Master Blender at Deutsch Family Wine & Spirits, talked about new consumer perceptions of sourced spirits. In his talk ("Getting Over the Stigma of Sourced Spirits"), he shared personal, first-hand experiences in the bourbon industry, which has finally begun to accept the important role of sourced spirits.
Success in the bulk and private label market is based, to a large degree, on how well suppliers can meet the expectations of buyers. With that in mind, a panel discussion dedicated to retail buyers guided participants through the key factors that determine how retailers view private label sellers. Panelists included Bill Abrahamson, Senior Wine Buyer at Liquors Plus in Minnesota; Darrin Baumunk, Corporate Beverage Buyer at Lasco Enterprises; and Maurice DiMarino, Wine and Beverage Manager at Cohn Restaurant Group. Through a series of questions and answers, they outlined many of the top issues involved in the buying decision.
Overall, the two-day IBWSS San Francisco event provided a comprehensive overview of how to achieve success in the bulk and private label market. Lively discussions and active networking throughout the event meant that participants could start putting their learning and insights to work immediately. Thanks to the globalization of the bulk wine industry, there are now a remarkable number of different ways to create new private label wines from scratch that can rival any traditional wine brand in terms of consumer adoption and support.
Lively discussions during the conference
The dates for next year's event will be July 28-29, 2020.

So if you are keen to join the event as an exhibitor and would like to save some money and use that towards your airline and hotels when you come to SF next year – we encourage you to reserve your spot by end of next month which is August 31 and you will be able to get the best deal which will save you $800.
Meet 100+ industry experts, consultants and thought leaders of the Wine & Spirits World under one roof at the 4th annual IBWSS San Francisco. Super Early Bird ends on Feb 28, 2020. Includes 2-day conference ticket as well. Become a Visitor.