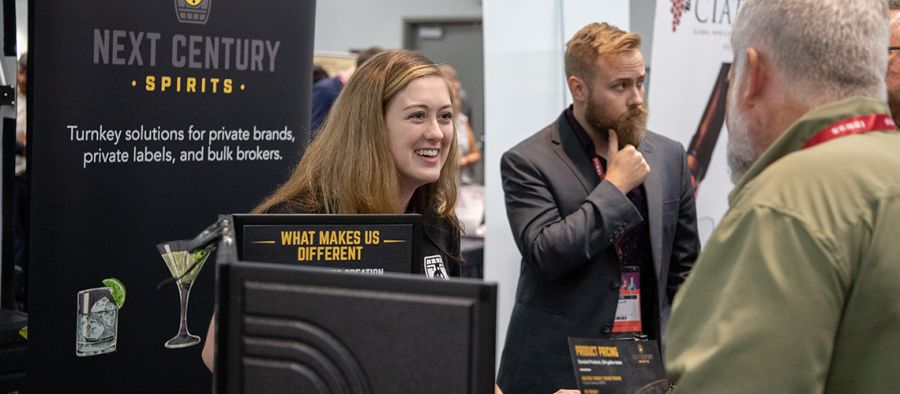 Highlights From Day 2 of the 2019 IBWSS San Francisco
On its second day, the International Bulk Wine & Spirits Show takes a deeper dive into the world of bulk and private label.
25/07/2019
On July 24, the two-day International Bulk Wine & Spirits Show (IBWSS) continued with a more comprehensive look at how participants could create a profitable business model for the bulk and private label industry. A series of speakers, presentations and panel discussions covered everything from how to profit from sourcing grapes from the right suppliers, to how to create a successful private label brand for the U.S. marketplace. Throughout the day, hundreds of participants also had a chance to visit exhibitor booths on the trade show floor of the South San Francisco Conference Center and meet potential partners.
IBWSS show visitors
Day 2 kicked off with a keynote speech ("Whisky, Wine & Winning") by Christopher Durham, President of My Favorite Brand and Co-Founder of the Vertex Awards. As Durham explained in his presentation, the changing role of private label brands has opened up many new opportunities within the wine and spirits industry. For example, alcohol beverage retailers are now using private label wine and spirits to differentiate and win.
Following Durham on the stage of the IBWSS San Francisco was Evan Stein, CFO of The Thornhill Companies. Once you've decided to enter the bulk market, says Stein, it's time to design the optimal financial model to maximize revenues and profitability. With that in mind, Stein guided participants through an analysis of the key financial data, key drivers, and key strengths that should be part of any successful business model for the bulk industry. Vertical integration, for example, can be used to create a more efficient supply chain – and the first step of any supply chain is sourcing grapes. In his presentation ("How to Make Profit With Sourcing Grapes"), Tim Hanni, a Master of Wine and Speaker at the Napa Wine Academy, explained the basics of how to get the possible pricing when sourcing grapes. Whether you are sourcing Cabernet Sauvignon or Chardonnay, the price you pay for your grapes is going to impact a number of important business decisions later.
Tim Hanni's session at the conference
As Hanni pointed out, for any company offering marketing products and services, the IBWSS event is particularly noteworthy for its ratio of participants to buyers and sellers. With each year the IBWSS event has been held in San Francisco, this ratio has consistently improved.
Capping off the morning session of IBWSS San Francisco was attorney Donna Hartman, who explained in great detail how to protect brand trademarks once companies have decided to move forward with their own private label program. As Hartman explains, any hard work that went into creating a compelling brand concept can be quickly undone if you fail to protect the intellectual property of your brand.
At 11:00 am on Day 2, the floor of the International Bulk Wine & Spirits Show once again opened to an eager crowd of attendees looking for ways to put their new knowledge to work. As on Day 1 of the IBWSS, the trade show floor was filled with exhibitors from every niche of the bulk and private label industry. In one single place, it was possible to find brand experts next to logistics experts next to winegrowers. For anyone looking to put together a new private label wine brand, the IBWSS truly offered one easy place to find potential partners and vendors.
2019 IBWSS SF Expo Floor
As Richard Tankersley of New Zealand Unlimited Group pointed out, the IBWSS event is "the place to see the future of the private label." For anyone interested in private label, says Tankersley, IBWSS San Francisco offers a very effective platform for meeting serious clients.
In the afternoon of the IBWSS, attention turned to building a world-class private label brand for the wine and spirits industry. Starting things off, Mari Kelly, VP of Private Label Wine Sales and Business Strategy, went over the basics of creating private label brands for retail customers. From concept to consumer, a lot goes into making a brand that will resonate with the modern wine drinker.
Jean Domingue, VP of Global Sales at WineDirect, then followed with an overview of the value of building a Direct-to-Consumer (DTC) brand. Doing so can actually be much more efficient and profitable than going through the traditional three-tier system, in which getting distribution is sometimes extraordinarily difficult for an unknown or up-and-coming brand.
Finally, Gabe Barkley, CEO of MHW, Ltd., capped off the day with a deep dive into successful brand building. Using case studies of four top brands, Barkley explained the common features and characteristics that each of these brands had in common.
VIEW ALL SPEAKERS | VIEW THE LIST OF EXHIBITORS AT THE TRADE SHOW FLOOR
Day 2 of the IBWSS ended with a final flow of participants onto the trade show floor. There it was possible to meet exhibitors from nearly every major wine region in the world and to get first-hand advice on every aspect of doing business in the bulk and private label trade. Experts such as Steve Dorfman of Ciatti Company were on hand to answer questions about the shifting trends in the bulk wine and private label marketplace. "There has certainly been a change in the market," says Dorfman. "There is more bulk wine in the market."
Day II expo floor
Overall, the two-day IBWSS event provided an unparalleled look at the current state of the global wine industry. Bulk and private label are now very much front and center when it comes to any discussion of the future of wine, and many of this year's participants were already putting together plans to visit San Francisco again next year for an expanded International Bulk Wine & Spirits Show.
Did not visit the show on the day I? Here are the highlights.
The dates for next year's event will be July 28-29, 2020.

So if you are keen to join the event as an exhibitor and would like to save some money and use that towards your airline and hotels when you come to SF next year – we encourage you to reserve your spot by end of next month which is August 31 and you will be able to get the best deal which will save you $800.
Meet 100+ industry experts, consultants and thought leaders of the Wine & Spirits World under one roof at the 4th annual IBWSS San Francisco. Super Early Bird ends on Feb 28, 2020. Includes 2-day conference ticket as well. Become a Visitor.