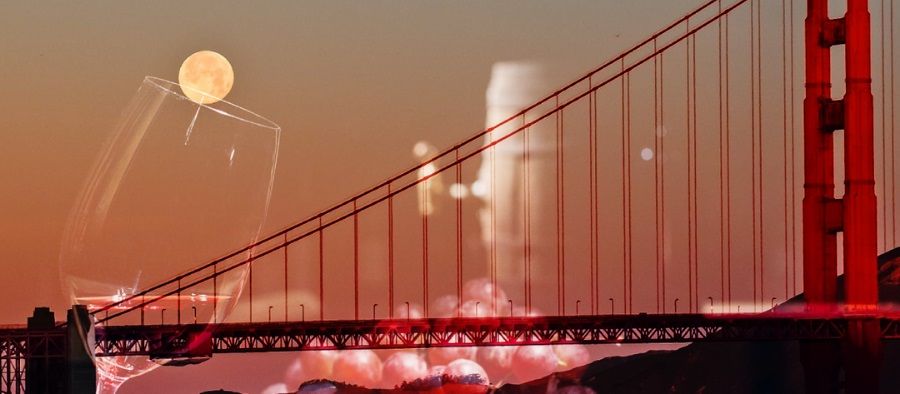 Rolling Blog: Daily Updates From USA Wine Industry
The IBWSS San Francisco keeps you up-to-date on what's going on in the USA wine industry. This blog will be updated on a regular basis with relevant news and articles.
11/05/2021
July 28, 2021
Mount Veeder winery wins Napa County approval
Aaron and Claire Pott have secured Napa County permission to build their Chateauneuf-du-Pott winery on the forested slopes of Mount Veeder despite a scattering of opposition.
---
July 27, 2021
China and USA boost wine and spirit sales at LVMH
French luxury good company LVMH Moët Hennessy Louis Vuitton saw growth in its wine and spirits division in the first half of the year on the back of demand in China and sustained growth in the USA.
---
July 26, 2021
Randall Grahm partners with Gallo on Rhône varieties project
Having sold his Bonny Doon Vineyard last year, Rhône ranger Randall Grahm has teamed up with E & J Gallo on a wine project shining a light on Rhône varieties.
Willamette Valley gears up for annual Pinot Noir auction
Winemakers in Oregon's Willamette Valley will preview their 'one-of-a-kind' Pinot Noir lots in a series of events this week in preparation for the sixth annual trade auction on 5 August.
---
July 23, 2021
Randall Grahm and E & J Gallo's Luxury Group Team Up To Release The Language of Yes, New Wines from California's Central Coast
E. & J. Gallo Winery's Luxury Wine Group, in collaboration with legendary winemaker and visionary Randall Grahm, announced today the release of a collection of wines called The Language of Yes.
Kendall Jenner's 818 Tequila sales soar
In the two months since the launch of Kendall Jenner's 818 Tequila, the brand's sales have already exceeded the figures forecast for its first two years of business, according to the company's president.
---
July 22, 2021
O'Neill Vintners & Distillers Partners with Hugely Popular #IMomSoHard Comedy Duo to Launch Accomplice Wines
Famous Accomplices Kristin & Jen Create California Wines To Celebrate Every Mom.
Walmart unveils new collection of private label wines
American hypermarket chain Walmart has launched a range of premium private labels, with a suggested retail price of US$10 for each wine.
---
July 20, 2021
'A different market going forward': What's next for California fine wine post-pandemic
The business of premium wine has fared well overall through the coronavirus pandemic, but even as the economy continues to reopen nationwide, vintners will find a much different market than a year ago, according to a key industry analyst speaking at a virtual North Coast business event Wednesday.
---
July 16, 2021
Grand Award-Winning Wally's Goes All-In on Vegas
Wally's, the retail-restaurant hybrid with a Wine Spectator Grand Award-winning location in Beverly Hills, Calif., has arrived in Las Vegas.
Is Canned Wine Growing Up?
Sales continue to surge as winemakers put more interesting wines in cans and start to stress quality over portability. Are consumers listening?
---
July 15, 2021
Kendall Jenner's 818 Tequila sells out just four hours after launch
American model and socialite Kendall Jenner's 818 Tequila brand has proved an astronomical early success – selling out just four hours after its launch and attracting orders from 80 countries.
---
July 14, 2021
Savage & Cooke Debuts 17 And 14-Year-Old American Whiskeys
Napa Valley winemaker Dave Phinney is known for his experimental small-batch whiskeys. He has recently added two new ones to his stable, the Guero 17 year bourbon and 14-year American whiskey.
---
July 13, 2021
New winemaker at Napa Valley's Newton Vineyard has Sonoma County roots
Andrew Holve is the new head of winemaking at Newton Vineyard in St. Helena.
---
July 12, 2021
Two Napa Valley wineries win Green Medal awards for sustainability
Trinchero Family Estates and Boisset Collection were named Green Medal winners recognizing a commitment to sustainability.
---
July 9, 2021
Sonoma County Vintners Foundation Announces $1 Million Community Grant Distribution to Support Pandemic Relief
Today, the Sonoma County Vintners Foundation announces a distribution of $1 million in Community Grants to 87 Sonoma County nonprofits that have been greatly impacted during the pandemic.
Prosecco DOC Consortium Prepares For The Fourth Annual 'National Prosecco Week'
National Prosecco Week Will Be Celebrated Nationwide from July 19-25 with Retailers Nationwide, Wine.com, SevenFifty, VinePair, Grand Reserve World Mastercard City Hive and 3x3
---
July 8, 2021
Lang & Reed Napa Valley Releases 2010 'Bois Sauvage' Cabernet Franc
Exploring the versatile character of Cabernet Franc, Lang & Reed Napa Valley launches the third wine from their coveted Monograph Collection, 2010 Bois Sauvage Cabernet Franc, Napa Valley.
---
July 7, 2021
This U.S. Region Is Becoming the Next Napa Valley
Before Napa Valley became the epicentre of American-made wine, the top producer was the Missouri River Valley. Now, the state of Missouri is making a comeback as the major wine producer of the Midwest.
---
July 6, 2021
NBA Legend Scottie Pippen Launches His Own Bourbon
NBA legend and entrepreneur Scottie Pippen recently teamed up with wine and spirits maker Dave Phinney to launch DIGITS, a five-year-old bourbon exclusively in Chicago.
---
July 5, 2021
Bombay Sapphire Launches Groovy Limited-edition Bottle
Thanks to a collaboration with LA artist Steven Harrington, the gin's classic blue bottle now has a dash of pizazz.
Learning About Terroir Through Single-Vineyard Napa Cabernets
Napa Valley's Cabernet Sauvignon grapes produce the signature California wine known to much of the world, but, as with any great viticultural region, what a given Cabernet actually tastes like has a lot to do with where it is grown within the valley.
---
July 2, 2021
Bacchus Landing to Debut Healdsburg Collective of Winery Tasting Rooms in Summer 2021
Bacchus Landing is pleased to announce the official opening of its curated collective of winery tasting rooms in July 2021.
Johnnie Walker Appoints Global Brand Ambassador
Diageo has named Australian bartender Tim Philips-Johansson as global brand ambassador for blended Scotch whisky Johnnie Walker.
---
July 1, 2021
Graham's Unveils New Look For Six Grapes Port
Graham's Six Grapes reserve port has been redesigned with a new aesthetic that represents the wine's long heritage.
---
June 30, 2021
Kirk Venge Named Winemaker for IMPLICIT Cellars
Kirk Venge, considered by many to be among California's winemaking elite, has joined the team at IMPLICIT Cellars. Kirk is a highly sought-after winemaker, currently working with several premium boutique producers in Napa Valley.
---
June 29, 2021
US Gin Association Launches
The co-owners of North Carolina-based Durham Distillery have established a new organisation in response to the demand for juniper-based spirits in the States.
---
June 28, 2021
Californian wine brand Carnivor unveils bold new look
A premium wine needs an equally impressive suit of clothing to do it justice, and now that Carnivor has bagged the accolade of being the UK's number one Zinfandel, it's time for a bit of an image shake-up, or so the brand feels.
---
June 25, 2021
Four Feathers Wine Services Unveils New Name, New Look and New Website
One of Washington's leading custom winemaking producers also christens a new state-of-the-art packaging facility, expanded lab capabilities and a unique Studio program that offers a 'visionary approach to custom winemaking.'
Pernod Ricard launches Irish Distillers podcast
Drinks giant Pernod Ricard has released a podcast spotlighting the partnerships of its Irish Distillers arm, hosted by radio producer Julien Clancy.
---
June 24, 2021
Premium tequila brands aim to change perceptions about the spirit
According to IWSR Drinks Market Analysis, tequila is one of the fastest-growing alcoholic drinks in the U.S., with consumption up by 40% over the past five years.
Viñedos Veramonte Partners with Kiss the Ground
Viñedos Veramonte, one of the top 100% organic and sustainable wineries in Chile, is pleased to announce a partnership with the non-profit organization, Kiss the Ground, to help promote Regenerative Agriculture and inform American consumers on the best practices to have a healthy ecosystem.
---
June 23, 2021
Seven Hills Winery appoints Richards as new head winemaker
Seven Hills Winery, known for Merlot and Cabernet Sauvignon-based wines it has produced here in the Walla Walla Valley the last three decades, has announced the retirement of co-founder and head winemaker Casey McClellan.
---
June 22, 2021
Napa wineries report off-the-charts demand for $500-plus tastings
Napa vintners say demand for luxury wine-tasting experiences has never been higher, with their loftiest offerings priced at $500 or more selling out in record speed.
---
June 21, 2021
Private-label Food and Beverage Market to Witness Huge Growth by 2027 | Walmart Stores, Carrefour, Trader Joe's, Delhaize Group
Private-label Food and Beverage Market research is an intelligence report with meticulous efforts undertaken to study the right and valuable information.
---
June 18, 2021
Consumable Spirits Market is Booming Worldwide With Stock Spirits Group, William Grant & Sons Ltd, Diageo
Consumable spirits are the alcoholic distilled spirit available in natural and flavoured forms, these spirits can be consumed with different types of cuisine.
No One Is Talking About Bulk Wine, but They Should
The stereotype of bulk wine is the kind that comes in a box, the cardboard containers sitting on the bottom shelf of the grocery store.
---
June 17, 2021
RTDs To Become Second Biggest Alcohol Category In Us
The ready-to-drink sector is now bigger in volume than the total spirits category in the US and is expected to overtake wine this year, according to IWSR Drinks Market Analysis.
Distil Cheered By News Of Whisky Industry Expert Joining The Board
Former Guinness and Suntory executive Michael Keiller is joining Distil as an independent non-executive director with effect from 1 July.
---
June 16, 2021
Wine Tourism Roars Back in Napa and Sonoma
After more than a year of shutdowns, reopenings, reclosings, fires, smoke and surging e-commerce and Zoom tastings, Napa and Sonoma wineries are seeing visitors come back to taste in person.
---
June 15, 2021
Interest in Kardashians' favourite Napa winery surges after featuring on show
Though the long-lived reality show 'Keeping up with the Kardashians' has finally stopped filming after 20 seasons, a Napa winery that featured on the program has enjoyed a huge surge in interest.
---
June 14, 2021
Hot Brands And Instagram Are Fueling Rosé Wine's Phenomenal Growth Rate In The U.S. Market
According to a recent report by bw166, a global market research firm for alcohol beverage, U.S. rosé sales volume increased by an astounding 1433% from 2010 to 2020.
---
June 11, 2021
Breakthru Experts See Increased Consumer Demand for Premium Wine and Cocktails
As bars and restaurants across the country continue to reopen, Breakthru Beverage Group, a leading North American beverage distributor with operations across the United States and Canada, is seeing particularly strong demand for fine wine and premium cocktails across its footprint.
---
June 10, 2021
Napa wine group Duckhorn Portfolio reports 31% jump in Q3 sales
The Duckhorn Portfolio Inc. on Monday reported earnings of $9.02 million on net sales of $90.43 million for its fiscal quarter ending April 30.
---
June 9, 2021
Heading to wine country? Here's everything you need to know before you go
If you head out to Northern California's wine country, it certainly looks like vaccinations are giving tourists the liberty to travel again.
---
June 8, 2021
Bruno Mars Debuts Selvarey Coconut Rum
American singer Bruno Mars has expanded his Selvarey Rum range with a coconut-flavoured variant and kicked off a new campaign.
California Wine Grape Growers Group Overwhelmingly Backs Commission
The Lodi Winegrape Commission referendum has passed by a huge margin, with 85% of the region's growers voting in favor of continuation, according to the California Department of Food & Agriculture (CDFA).
---
June 7, 2021
Bruno Mars Debuts Selvarey Coconut Rum
American singer Bruno Mars has expanded his Selvarey Rum range with a coconut-flavoured variant and kicked off a new campaign.
---
June 3, 2021
Wine Country Roars Back to Life With Fine Dining Restaurants in High Demand
Chef Kyle Connaughton of three-Michelin-starred SingleThread in Healdsburg is bullish on the return of fine dining.
---
June 2, 2021
Wine Tech Open House to Save Harvests from Wildfires: Sonoma and Napa June 7-10
Purfresh Clean, an agtech company whose mission is to improve wine quality and to save wine harvests from smoke taint caused from wildfires, is inviting all vintners in Sonoma and Napa to a wine tech open house – June 7-10.
---
June 1, 2021
Target adding beer, wine and alcohol for curbside and in-store pickup at 1,200 stores
Curbside pickup is getting more spirited at more then 1,200 Target stores across the country.
---
May 31, 2021
A Milestone for Schug Carneros Estate
Walter Schug departed this world in 2015 but his passion for Pinot Noir lives on at Schug Carneros Estate which is celebrating 41 years of devotion to the variety.
---
May 28, 2021
Premiere Napa Valley 2021: The Vice Wine Donates 20 Cases of 100% Single-Vineyard Howell Mountain Cabernet Sauvignon 2018
For their first time at Premiere Napa Valley, The Vice Wine donated one of the largest lots in the 2021 auction.
---
May 27, 2021
Aldi 101: How to save on groceries, get $2.95 wine, knock-off Chick-fil-A and find rare deals without coupons
There's a strategy to shop Aldi to find the kinds of deals and gotta-haves that inspire Facebook groups of thousands gushing about what they scored on their Aldi excursions.
---
May 26, 2021
Tinley Adds Third Major Retail Group and Increases Bottling Capacity Utilization
The Tinley Beverage Company Inc. (CSE:TNY, OTC:TNYBF) ("Tinley's" or the "Company") is pleased to announce that its products will launch this week at the Harborside dispensaries, one of California's oldest and most prominent dispensary chains.
---
May 25, 2021
Liberty Call Distilling in Barrio Logan Marks Re-Grand Opening with Bourbon Release Party
Liberty Call Distilling will celebrate the re-grand opening of its Barrio Logan restaurant-distillery with a Bourbon Release Party on Saturday, June 5.
---
May 24, 2021
Demeine Estates Announces Philana Bouvier as President
Demeine Estates, a Napa Valley-based négociant of fine wines, is pleased to announce the appointment of Philana Bouvier as President.
---
May 21, 2021
Southern Glazer's Wine & Spirits Appoints Ray Lombard to Executive Vice President and General Manager, Craft Spirits
Southern Glazer's Wine & Spirits (Southern Glazer's)—the world's preeminent distributor of beverage alcohol—today announced that it has appointed Ray Lombard to the new role of Executive Vice President and General Manager, Craft Spirits, effective July 1, 2021.
Sonoma County Planning Commission to Hear Draft Winery Events Ordinance
"The wine industry plays a critical role in Sonoma's economy," said Tennis Wick, Director of Permit Sonoma. "We are proud to work with the industry and neighbors to develop regulations which balance winery needs while protecting our rural communities and agriculture."
Kendall Jenner's 818 Tequila secures US distribution
818 Tequila, the brand founded by model and Keeping Up with the Kardashians star Kendall Jenner, has signed a US distribution deal with Southern Glazer's Wine and Spirits.
---
May 20, 2021
New SuTi Craft Distillery in North Texas is the only U.S. producer of traditional Vietnamese rice liquor
Unable to find rượu đế in the U.S., two longtime friends decided to make it themselves in Kennedale.
Things to do in Sonoma County, May 21-30, 2021
Whether your perfect day involves lots of wine and relaxation or a night hike looking at the full moon, Sonoma County has it. Don't miss out on these unique and fun events.
Winery Hiring Surges as Reopening Begins
In step with the loosening of pandemic restrictions and the reopening of the US economy, winery hiring activity has spiked and job postings have been led for roles in hospitality and direct to consumer (DTC) programs.
---
May 19, 2021
Walmart Jumps As 'get Out And Shop' Ethic Spurs Boosted Forecast
The retailer now expects earnings per share to rise by a high single-digit percentage this year, compared to earlier estimates for a slight decline.
American whiskey producers welcome EU tariff freeze
The 50% EU tariff hike on American whiskey that was set to come into play on 1 June has been suspended.
---
May 18, 2021
Home Depot, Walmart, Target, Kohl's and Costco no longer require masks for vaccinated customers.
Retailers started announcing changes to face mask policies for fully vaccinated customers a day after the Centers for Disease Control and Prevention issued new masking guidelines.
"Wine Warehouse" Chosen as California Distributor for Benovia Winery's Critically-Acclaimed Portfolio
Mike Sullivan, Winemaker & Co-Owner of Benovia Winery, is pleased to announce that the Benovia team has chosen Wine Warehouse as their newly-appointed California distributor.
USDA purchases over $12M of grapes from seven California suppliers
The USDA has announced that it recently purchased over $12 million of fresh table grapes from seven California suppliers for distribution to the child nutrition and other related domestic food assistance programs.
---
May 17, 2021
Tullibardine Imports Two New Scotch Single Malts To United States
Scotland's Tullibardine distillery, working with importer Prestige Beverage Group, recently announced it is releasing two new Scotch single malt whiskeys created exclusively for the United States market: Tullibardine Artisan and Tullibardine 12-Year-Old.
White Cooking Wine Market Is Booming Worldwide With | Marina Foods, Mizkan, Goya Foods
This report provides a detailed overview of key factors in the White Cooking Wine Market and factors such as driver, restraint, past and current trends, regulatory scenarios and technology development.
Joe Jonas fronts Tanqueray Sevilla spot
To celebrate the launch of Tanqueray Flor de Sevilla gin in the United States, Diageo has collaborated with musician Joe Jonas on a new digital series.
---
May 14, 2021
These Winemakers Are Going Far Beyond Organic
According to a study conducted by research group IWSR, about 729 million bottles of organic wine were consumed in 2018, and that number is expected to rise by 34% to 976 million by 2023.
Licor 43 Horchata makes US debut
The Licor 43 Horchata vegan cream liqueur by Zamora Company is now available in the United States.
Why Napa winery Duckhorn Portfolio became the first in decades to IPO
Is this the beginning of a new era of wines on Wall Street?
Golden opportunity: The rise of California fine wine at export
The UK's relationship with Californian blue chips may be in the nascent stages, but there is potential for significant growth.
---
May 13, 2021
American Wineries Look to Elevate Hybrid Grapes
These winemakers want to raise hybrid wine production to the same level as wines produced with Old World varieties.
American Airlines Now Offers Fine Kosher Herzog Wines on New Flights from JFK to TLV
Starting on June 4, All Miami and Dallas passengers will be able to order from American's kosher wine list as well.
First-Growths and Bitcoin: Cryptocurrency Enters the Fine Wine Chat
Cryptocurrencies like Bitcoin have sped up their transaction time in recent years, making it easier for wine merchants to accept them as payment.
---
May 12, 2021
Ten Design-led Wineries And Tasting Pavilions From Across The United States And Canada
Take a look at the ten wineries with incredible architecture from across the US and Canada, ranging from a cave-like wine tasting room dug into a Texas hillside to a British Columbia winery covered in weathering steel.
Drew Nenow's Wines Honor Family And Paso Robles Terroir
Known as Rhone Rangers, Paso Robles producers like Saxum Vineyards, Tablas Creek and TH Estate Wines have forged a path for California and opened doors for the next generation.
Sonoma Winemaker Shares What It's Like Making Elite Private Wines For Celebs Like Tony Hawk And Justin Timberlake
As for the process of making the wine and how involved each client is, there's a ton of variance. Some are super hands-on and others put the ball in his court and let the winemaker make world-class wine. Here he spoke about the differences between Tony Hawk's private label and making a wedding wine for Jessica Biel.
---
May 11, 2021
Sonoma-Cutrer Introduces Winemaker's Release: 40th Anniversary Chardonnay
Award-winning Sonoma county winery celebrates its 40-year legacy with a historic collaboration between winemakers past and present. To create this year's Winemaker's Release, Directors' of Winemaking Bill Bonetti (1981-1990), Terry Adams (1991-2010), and Mick Schroeter (2010-Present) worked with Chardonnay Winemaker Cara Morrison (2005-Present) to artfully blend a Chardonnay that pays tribute to the winery's mastery of the variety.
Premium Crush Facility Ramps Up Equipment, Operations and Hospitality Services
Du Preez is enthused to announce that the onsite Sugarloaf Crush Hospitality Center is able to resume operations for member wineries and their preferred clientele. The Hospitality Center features a public tasting room, separate suites for private tastings and a commercial kitchen to prepare bites during normal tasting hours. Sugarloaf Clientele have the option to host catered lunches or dinners as well as large events entertaining up to 200 guests at the facility.